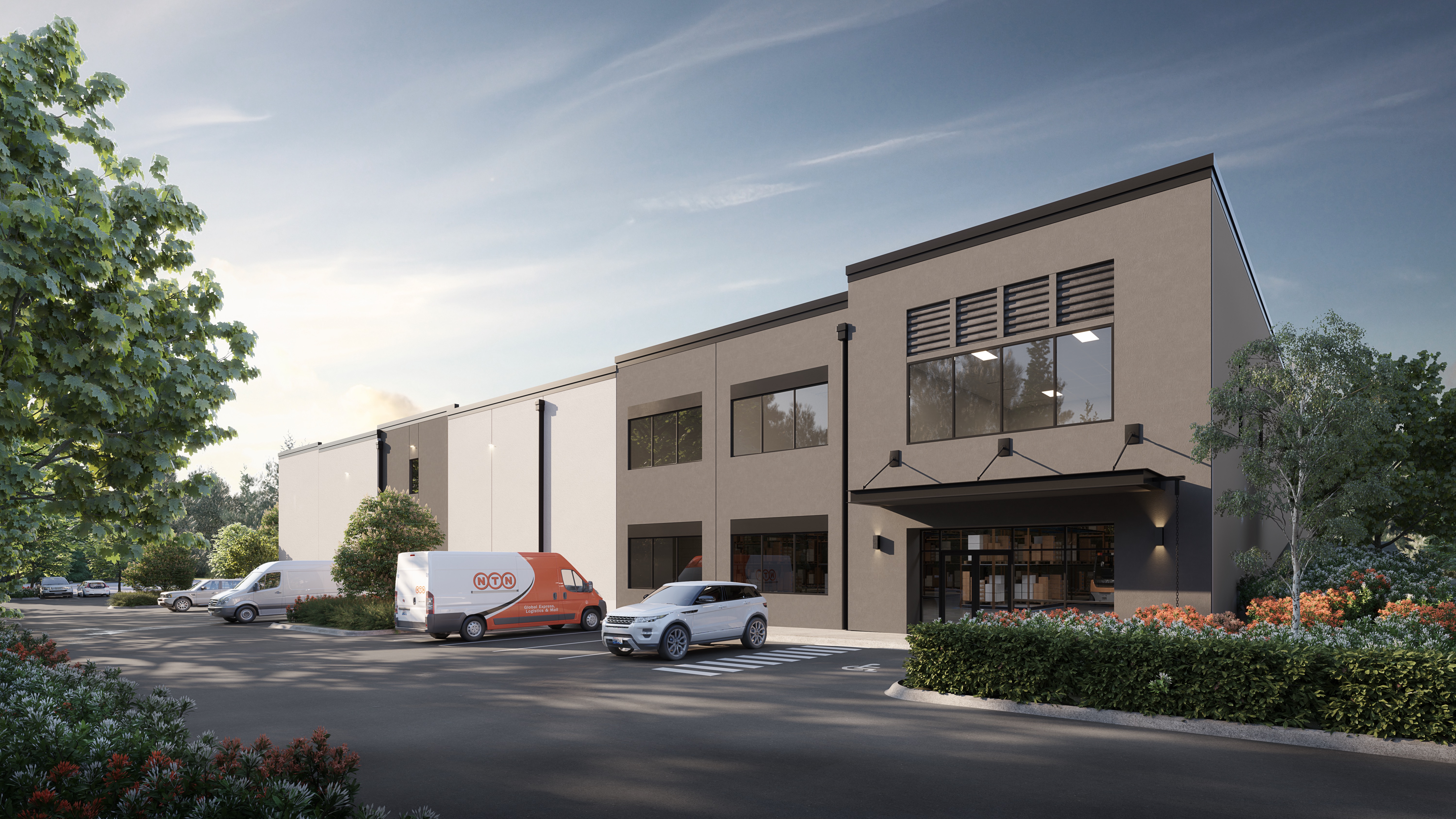 4301 78th Street, SW, Mukilteo
Brand New Industrial Space to Buy or Lease
Units Available 16,431 SF – 33,552 SF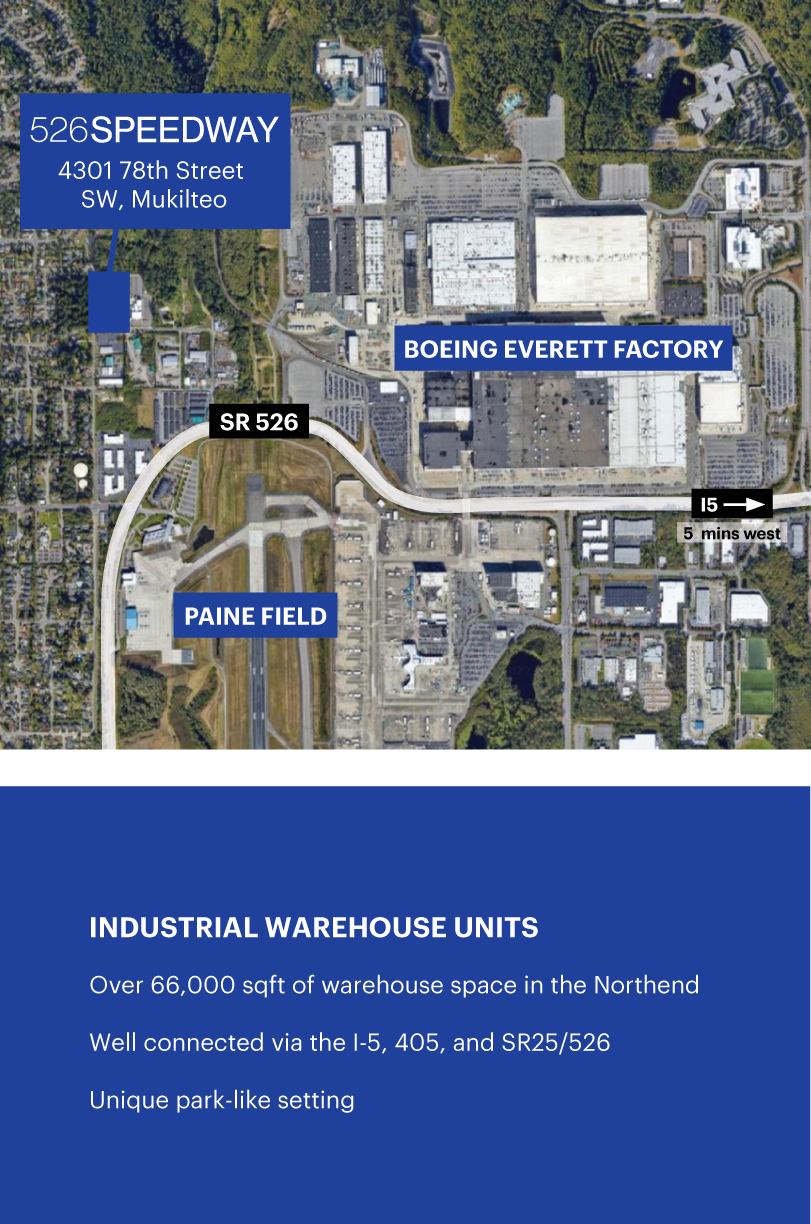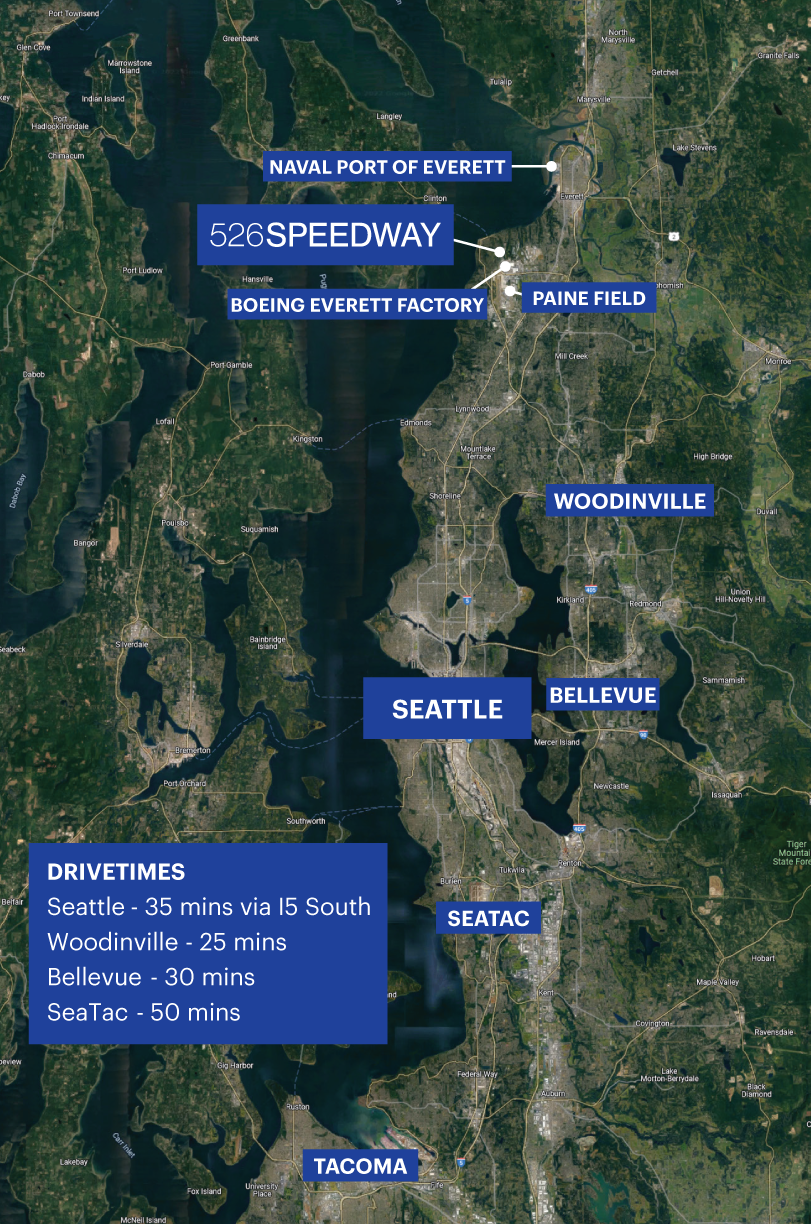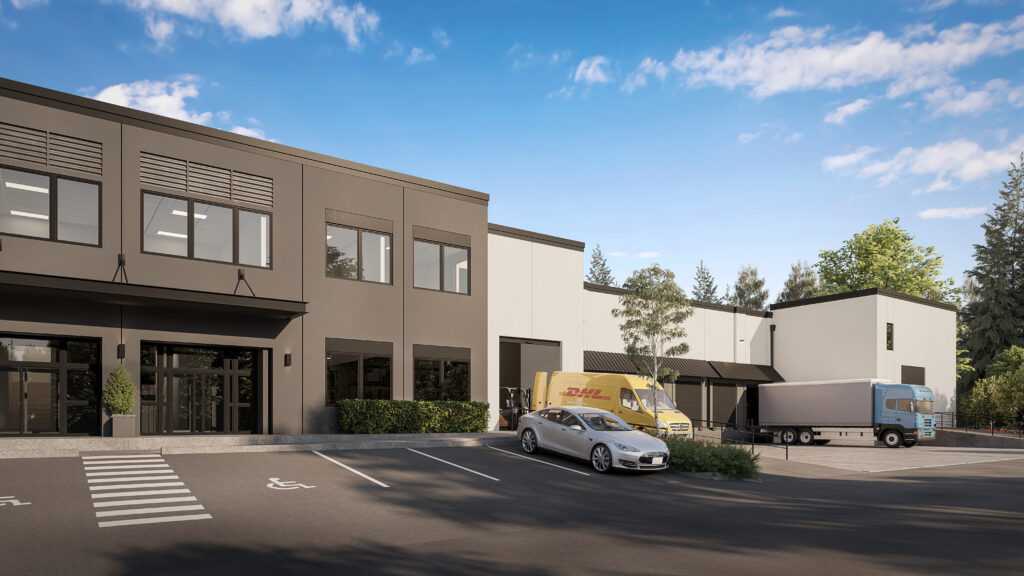 Building Plan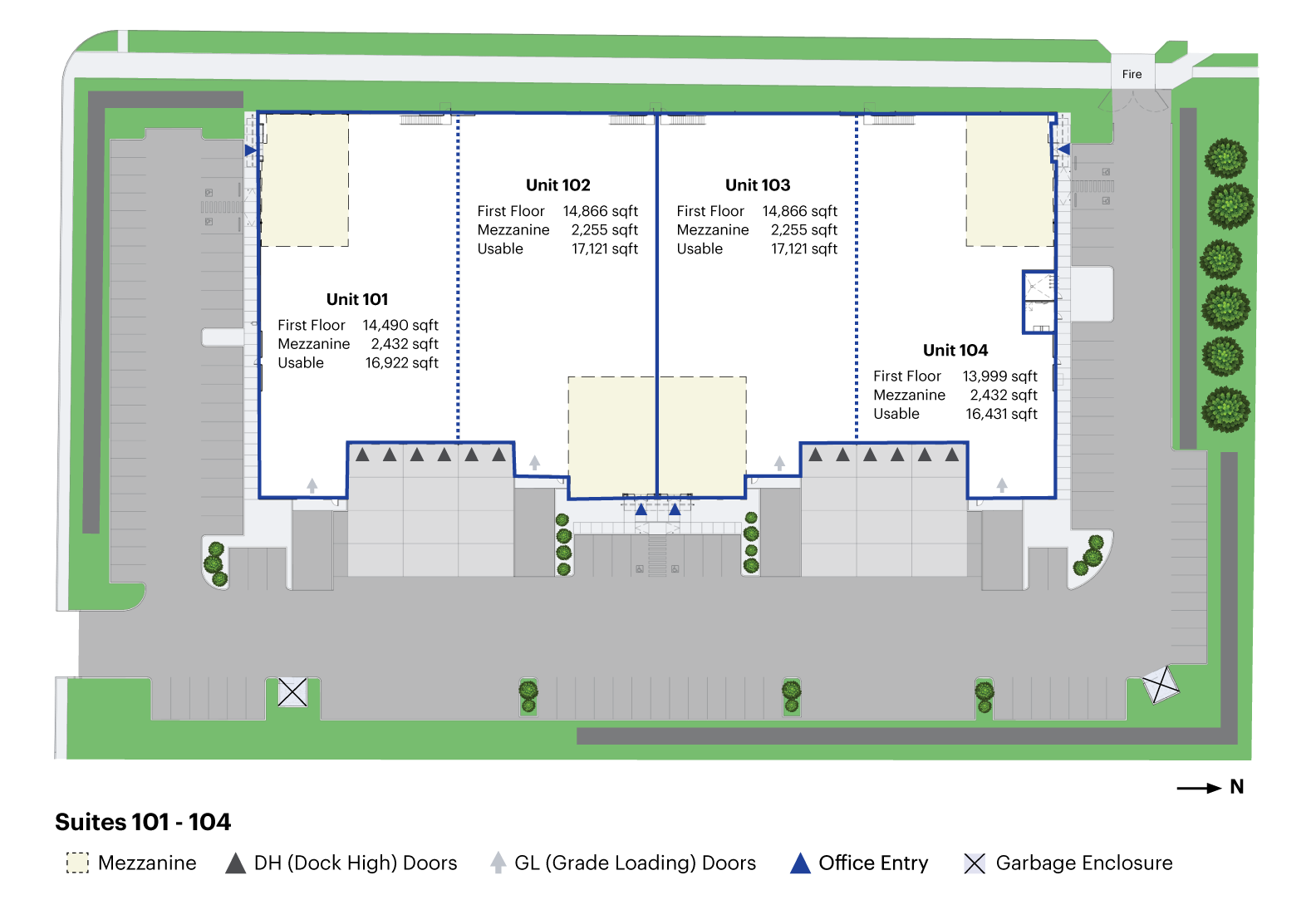 Features and Specifications

24 ft clear height in the warehouse (minimum 11 ft clear under mezzanines)
Steel and concrete mezzanine included in each unit with 125lbs per sq ft floor load capacity
Warehouse with 6" concrete slab
Over 1.5 parking stalls per 1,000 sq ft of area available (22 allocated to each unit)
One grade loading per unit and 2 or 4 dock-high loading bays per unit (see floorplans)
3-phase power to each unit of 200a (2000a service to building)
ESFR sprinkler system
Gas-fired heaters to code for warehouse space
Each unit comes with a finished vestibule, entryway, one finished ADA washroom and mezzanine
Demising walls between units finished with fire-taped drywall
Unit 101 and 104 delivered with turn-key office, per floorplan attached
Unit 102 and 103 can be delivered with built-to-suit, see concept plans and inquire with broker
Call Listing Broker for Pricing / Lease Rates
Purchased or Leased Units can be delivered with build to suit office.
Floorplan – Unit 101
Total 16,922 sqft Ground 14,490 sqft Mezzanine 2,432 sqft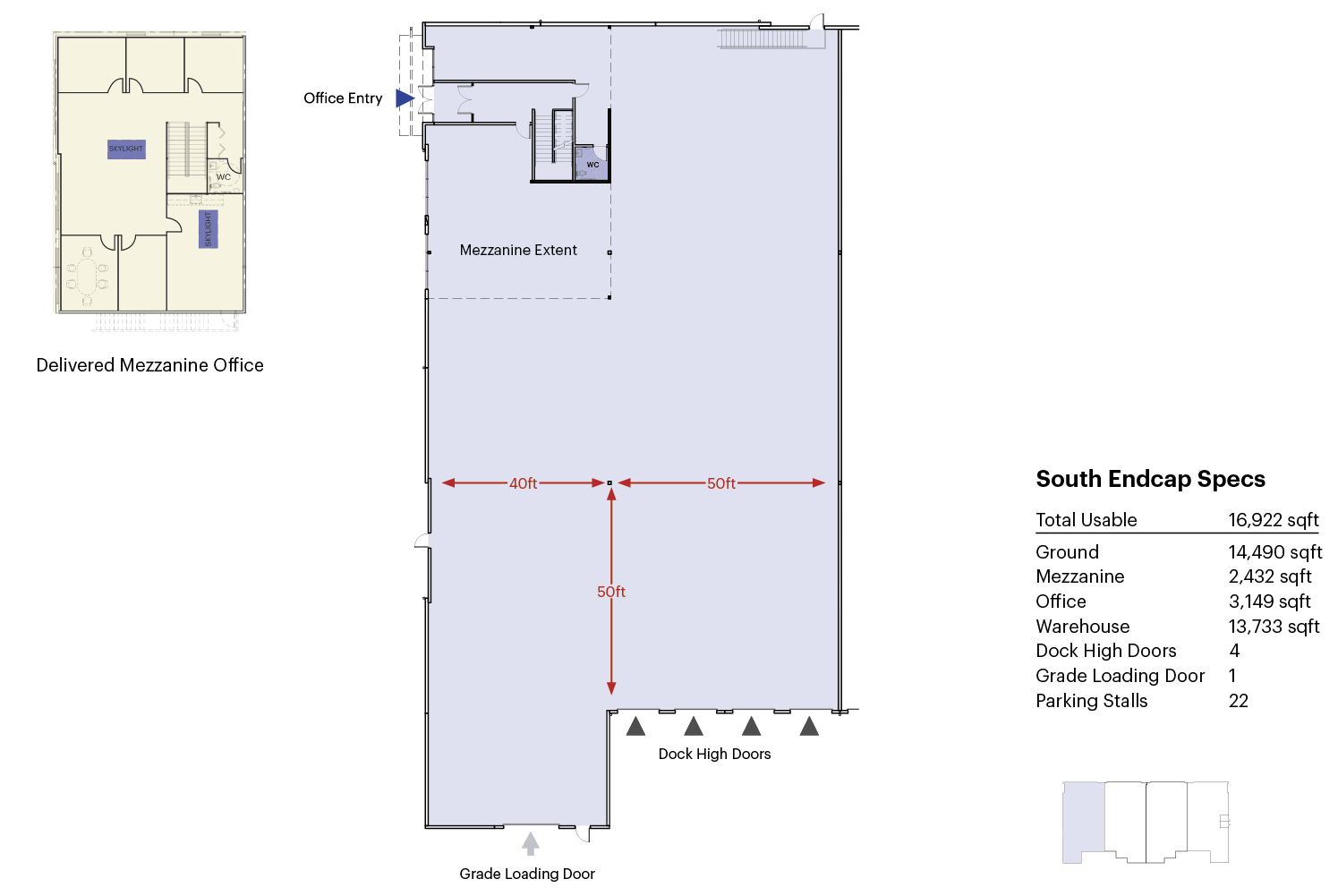 Floorplan – Unit 102
Total 17,121 sqft Ground 14,866 sqft Mezzanine 2,255 sqft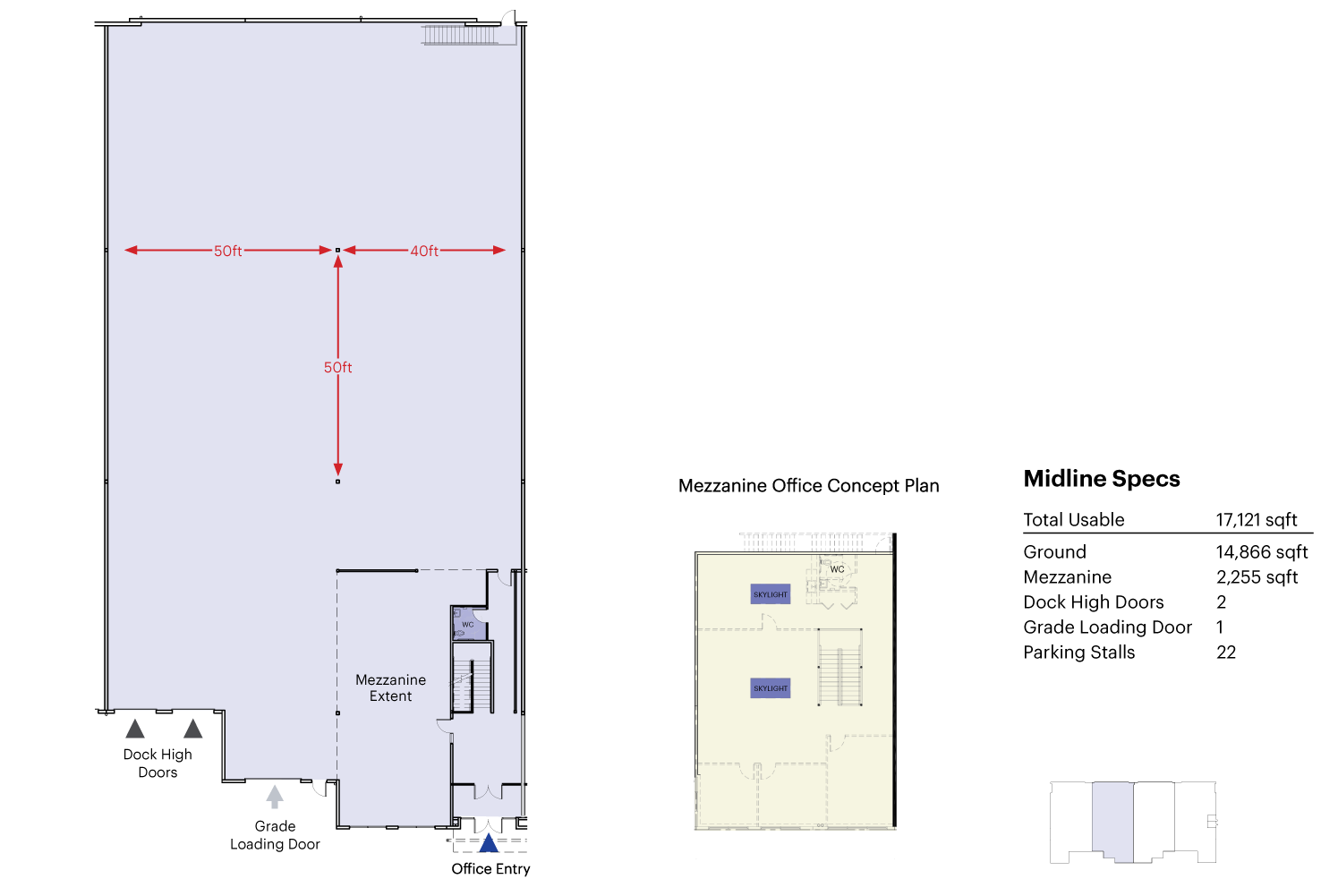 Floorplan – Unit 103
Total 17,121 sqft Ground 14,866 sqft Mezzanine 2,255 sqft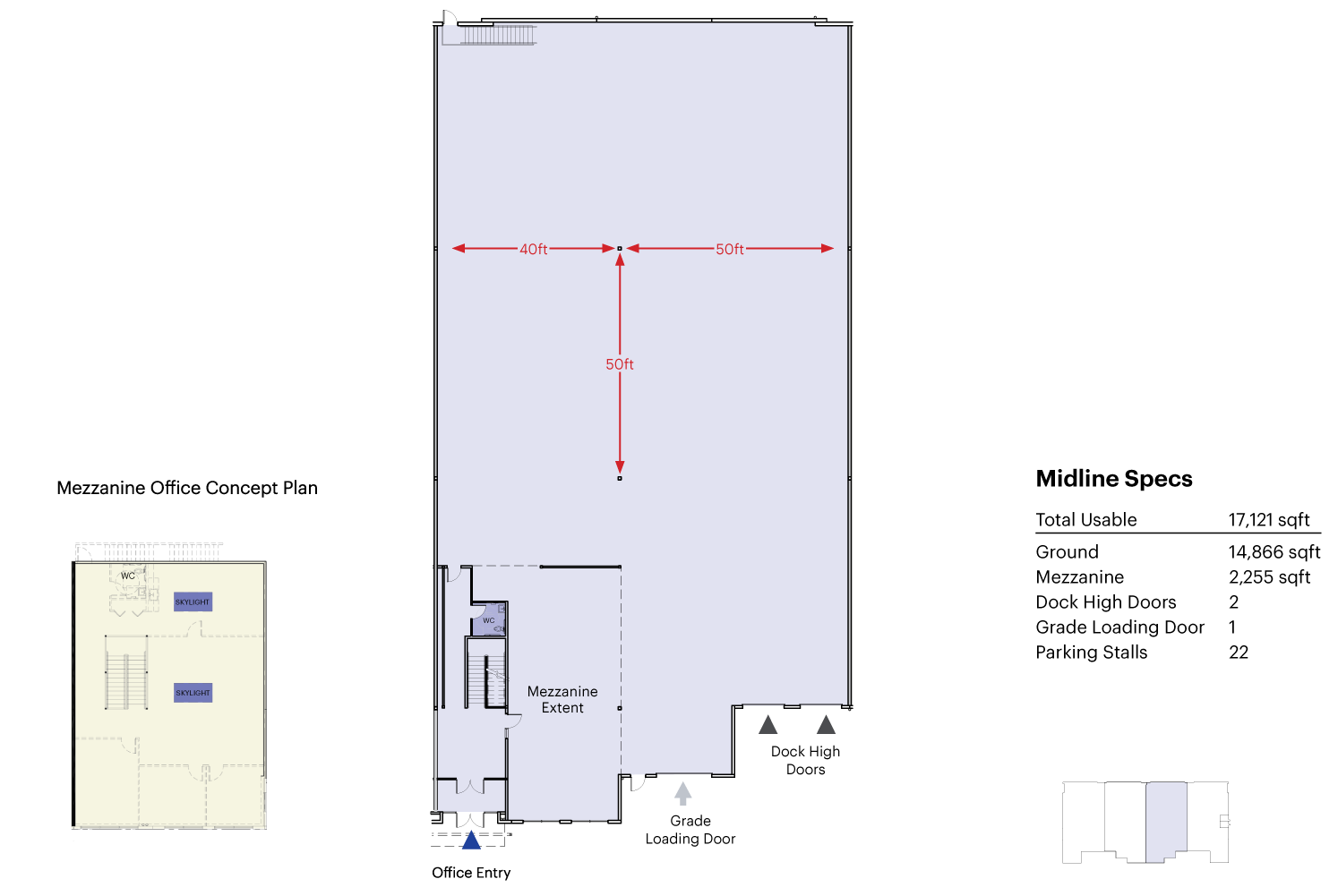 Floorplan – Unit 104
Total 16,431 sqft Ground 13,999 sqft Mezzanine 2,432 sqft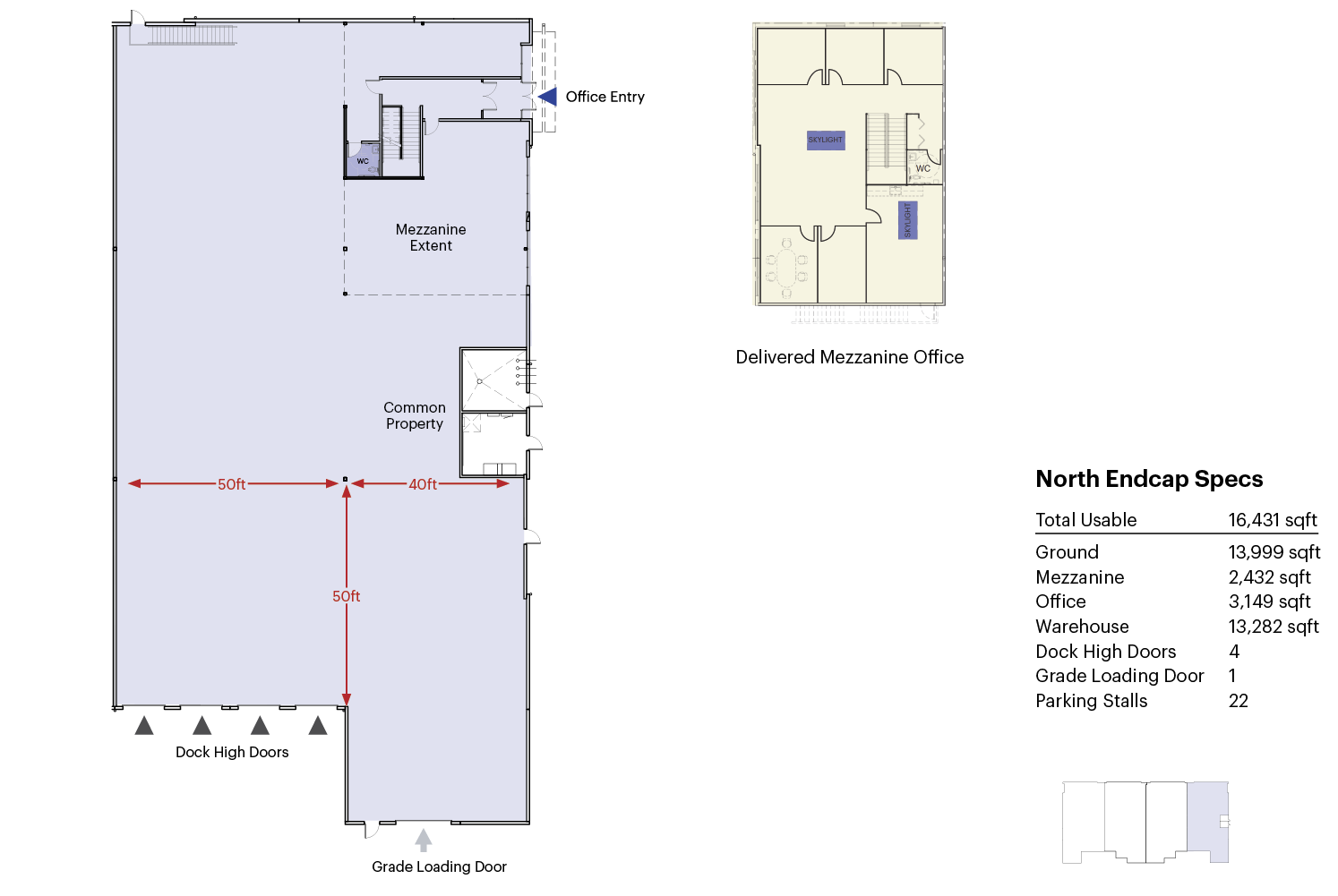 If you want to buy instead of rent, this is a unique opportunity to purchase Industrial Condominium units
SECURITY & CONTROL
Grow your business with confidence.
No lease term. No large rent escalations on renewals. No landlord.
Significantly lower capital repairs for the immediate future with a new building versus capital repair costs of an older existing building.
BUILD EQUITY

Pay yourself, not the landlord. Each month's mortgage payment contributes towards principal repayment.
Benefit from capital appreciation as Seattle industrial assets continue to increase in value.
Take advantage of tax saving opportunities through depreciating improvements.
SAVE MONEY

Mortgage interest over 5-10 years of occupancy can be less than rent on the equivalent space.
Money spent on improvements are owned by you and for your benefit in perpetuity.
Fix your real estate costs for the long term.
BUSINESS FLEXIBILITY
Sell your business, keep the asset.
Sell your unit, lease-back for the business.
Sell both.
Teams
MOSAIC (USA)
Mosaic has been active building in Washington State since 2001 and is a co-founding partner of Rise Properties Trust, which today has over $2.8bn of rental apartment assets under management throughout the Puget Sound and Portland. In British Columbia, Mosaic is one of Vancouver's largest builders with over 6,500 homes and commercial spaces built and an active development pipeline of over $1.2bn.
SYNTHESIS (ARCHITECT)
The team of Randy Brown and John Llacuna of SynThesis Architects PLLC bring over 40 years of experience in architecture working on a large array of industrial and commercial projects throughout the Pacific Northwest.
FOUSHEE (GENERAL CONTRACTOR)
Foushee is a Bellevue based general contractor which has been operating in the Seattle market since 1977. With their experienced project teams, Foushee provides the full range of construction services including pre- construction, construction, and post construction services. Recently completed projects nearby in Everett include a distribution warehouse for Amazon, a distribution center for FedEx, and a warehouse for lease by Underwood Gartland.
Mosaic reserves the right to make modifications and/or changes.
Sizes, dimensions, square footages, specifications and features may vary. E.&O.E.