With the Holidays fast approaching, it's your final chance to shake things up and jump on some new trends in 2016. You may already have your stockings hung over the fire, and your Christmas tree up, but are there still some additional little items you can add to make your Edward Holiday table more festive and on trend?
This Winter, we're taking inspiration from our new Edward development! Edward has been created with a moody, dark, rich colour palette, with slick accessories that highlight the clean lines and elegance of the space. Today, we're going to be talking about incorporating metallic and decorative glass into your Holiday table during dinner, to make your feast an even more classy and luxurious affair.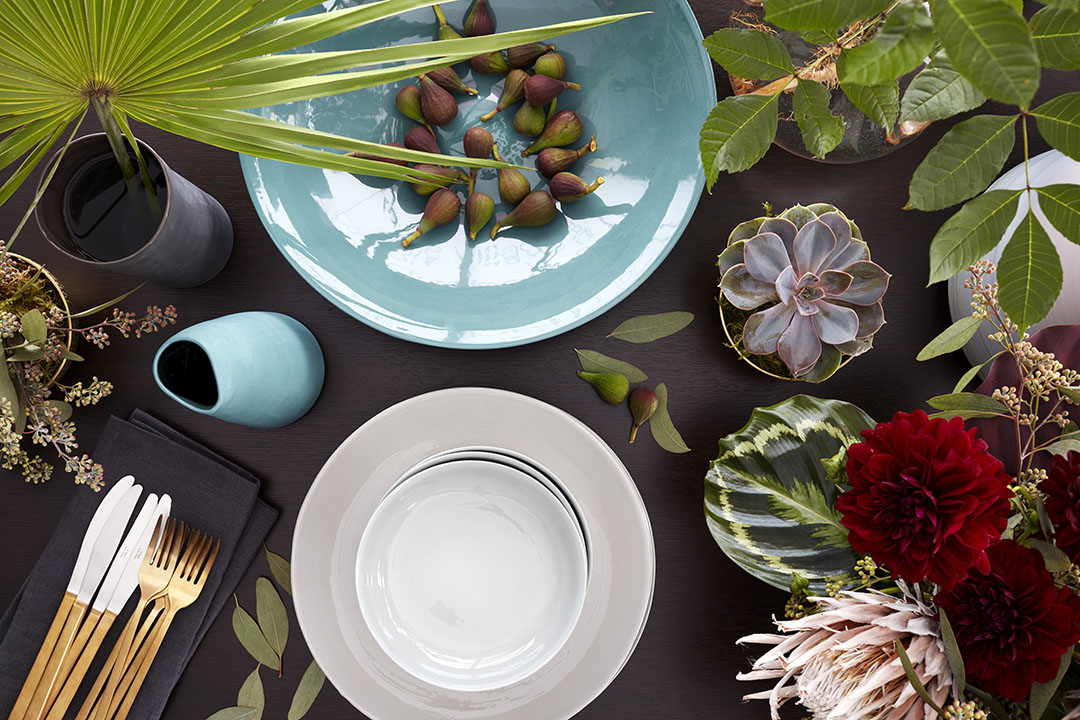 Decorating for the Holidays Tip #3: Include Metallics and Decorative Glass
Metallics are an easy, festive win at this time of year. They look expensive, classy and modern. And match perfectly with the dark jewel tones, natural textures and matte black accents that are so popular right now.
Adding sparkle through metallic and well-polished glassware adds a classy and chic touch to the modern shapes and textures that have become so popular in the real estate market.
Sometimes, it can be a bit of a challenge to find a way to incorporate these into your décor. Especially in a seamless and beautiful way without it looking a little thrown together.
So we've put together some fun ideas to incorporate Metallics and Decorative Glassware into your Holiday table. Both easy and cost-effective, it'll make a beautiful addition to your home.
Your Inspiration:
Glasswear: Ok, it's an obvious one. Most people stick with traditional clear glass glassware. But there are so many fun new designs out on the market. One of our personal favourites is the metallic rimmed glasses. It's subtle but adds that burst of elegance into your place setting.
Candle Holders: Candles are a great addition to the holiday table. You can match them to your colour scheme or even add that metallic pop. A great way to work in some decorative glassware and metallic is to house them in a beautiful large glass holder, or on a metallic candlestick.
Vases: Another easy and cost-effective way to add elegance to the table. Work a fresh flower vase into your centrepiece. You could opt for clear or coloured glass, or even shake things up with a metallic pattern (a crackle glazed vase, or even a rimmed metallic dip). There are so many wonderful options, it shouldn't be difficult to find something in the budget that matches your set-up.
Centrepieces: We've already hinted at it with our suggestions on vases. But, even less traditional centrepieces can be an easy way to add some more decoration to your table. From glass bowls filled with ornaments to baskets filled with nuts, there are some really creative and fun ways to add a sparkle. One great trick is spray painting pine cones with a metallic shimmer.
Dishes: You may already have your tableware set, but if you're in the market for new dishware, there are some beautiful patterns on the market. You can make small touches like metallic decorative plates under your serving plate. Or look for those with a metallic stripe, or rim.
Napkins: It's an easy and affordable option, but match your napkins to your table choice. Metallic are more challenging to find but are definitely out on the market. Doyleys are another easy and fast option for jazzing up your festive space (plus great for protecting your table!)
Napkin Rings: If you're having napkins, how about napkin rings? There are some beautiful brushed copper napkin rings, metallic pops of colour, or even clear glass options to jazz up the place setting.
Crackers: Christmas crackers are a beautiful addition to any festive table and come in a variety of themes. It's worth a more in-depth search for ones that match the theme you're going for, in look and in contents. Some have beautiful themed party hats for your guests, as well as a useful token inside
Ribbon: Last but not least, a decorative ribbon is an easy and effective way to add a pop of metallic to your occasion. Ribbon comes in all widths and colours so you can match your selection to what you want. For an extra metallic pop, try mixing different metallic ribbons on top of each other for a more dramatic display.
Welcome to Edward Homes
If you're interested in more information on our beautiful new Edward development, or just some extra inspiration on accessorizing with decorative glass and metallics, please visit our Edward Homes Page. Alternatively, information on some of the beautiful new townhomes for sale in the Vancouver area can be found on our properties page.
To get more interior design inspiration, visit our Home Store at 5710 Cambie Street, open daily 12-6PM.
Don't forget to check out the rest of our Decorating for the Holidays Series:
Let us know what you think in our comment section.