The Holidays are almost here and everyone is frantically searching for the hottest new 2016 trend. It's no secret that the little details make a huge difference. It could be the smell of fresh baked gingerbread adding to your Holiday ambiance, flickering candlelight to add a cozy feel or even unique décor touches that make your Edward home reflect your personality.
That's why we've put together this beautiful three-part Holiday décor series to show you the very best ways to accent your home for that classic, sleek and beautiful look this Winter.
In part one, we investigating using bold black as an accent colour to make your Holiday décor pop. Today, we're continuing to take inspiration from our Edward development and in part two, we're going to look at a really hot trend in the market right not – Jewel Tones combined with Natural Deep Colours.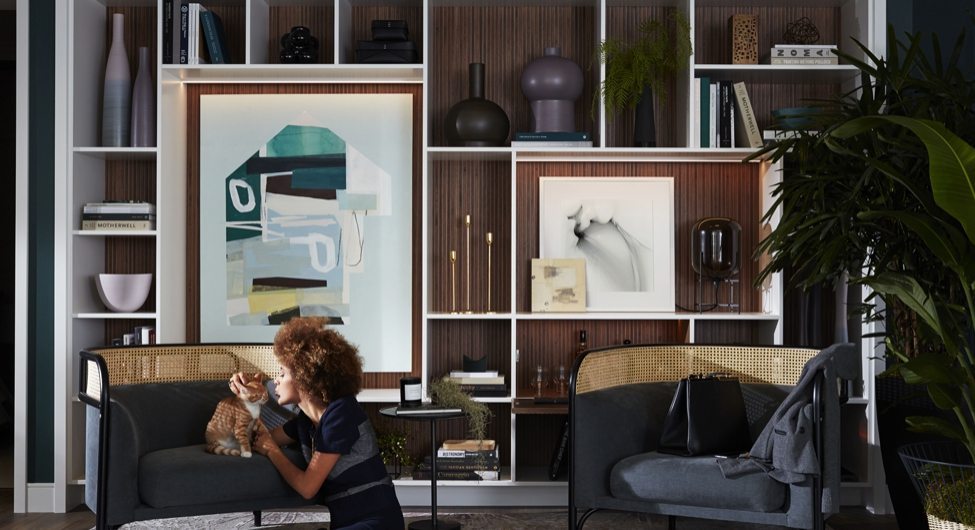 Décor Tip #2: Mixing Jewel Tones with Neutral Deep Colours
Jewel tones never go out of style. These rich bold colors are classic, but bright at the same time. Paired with classic wood grains and foliage makes for a beautiful addition to the home. Our Edward design was inspired by neutral deep colours and a rich palette, with emerald greens, deep cabernet, muted burgundy and black, combined with natural wood accents.
Mixing popular, vibrant jewel tones with neutrals like warm greys, deep plum, or bottle green, gives you a fresh take on the holiday palette. By keeping the traditional greens and reds people expect in the holiday, but mixing up the shades, you can create a fresh and exciting look. With slightly lower light levels in the winter, neutral colours really stand-out in the home and can be complimented with a ton of great lighting options.
Jewel tones can be added to almost any other colour scheme that is relatively neutral, for a burst of color. If you already have color, but it's softer, try to choose a jewel tone in the same family to keep the scheme harmonious.
Here's some great ways to add Jewel Tones and Neutrals to your Holiday Décor:
Try adding a cluster of neutral, natural coloured ceramics in your space. Try filling these with deep coloured flowers and eucalyptus branches for that pop of bright colour. These can be decorated with bright bows, or seasonal foliage as required.
A beautiful way to add some bright colours to your decor is to incorporate fruits into your display. Slices of lemon, orange, grapefruit or other citrus fruits add a fresh scent to the room, as well as a vibrant pop of colour.
Candles are a welcome addition at any time of year, but over the Holidays, the festive scents and flickering light adds a homely touch to any space. Add bright coloured candles, with natural wood bases (or even fresh fruit or nut bases) for something a little different.
Botanicals always bring a space to life. Especially living in Canada, where we tend to stay indoors more during this part of the year, the use of botanicals is a great way to bring nature and colour into your interior space during the season.
You can even carry the botanical element through to your centre piece of your holiday entertaining – the dining table. Add accent pieces to your table setting like bottle green. The bottle green will pair brilliantly with deep plum or deep cabernet floral arrangements.
Baskets are another beautiful addition to any room, fill with vibrant fresh flowers, nuts, ribbons or even extra tree ornaments for a decorative and fun display
The Holidays are a wonderful time to cozy up with loved ones. Try making a blanket ladder for your living room, with bright jewel tone blankets on a dark wood stained ladder. This is both practical, homely and a wonderfully different touch to traditional decorations.
If you want more information on our beautiful Edward development, or just some extra inspiration on decorating for the Holidays, please visit our Edward Homes Page . Alternatively, if you're interested in New Homes in Vancouver, check out our property pages to find your new home Today.
Don't forget to check out the rest of our Decorating for the Holidays Series:
Alternatively, you can come and visit our Home Store at 5710 Cambie Street, open daily 12-6PM. Let us know your thoughts in our comment section below, or pass along your suggestions for incorporating this trend!