It's almost the Holidays at Edward, and if you are anything like us, you're already looking at exciting new decor trends to incorporate into your home. Is there anything better than seeing a well-dressed Christmas tree lit in the corner of your room? Catching the smell of Pine through your home? Or catching glimpse of the perfect home accents that make your space an inviting Winter Wonderland?
When it comes to the Holidays, the little details make a huge difference. Some people go as far as to completely change their holiday decor every year!
So, whether you're in the market for a brand new set-up for your home, or just some great new accents to dress things up, we've got you covered. This three-part Holiday décor series will show you the very best ways to accent your home for that classic, sleek and beautiful look this Winter.
So let's get started, what's hot in 2016?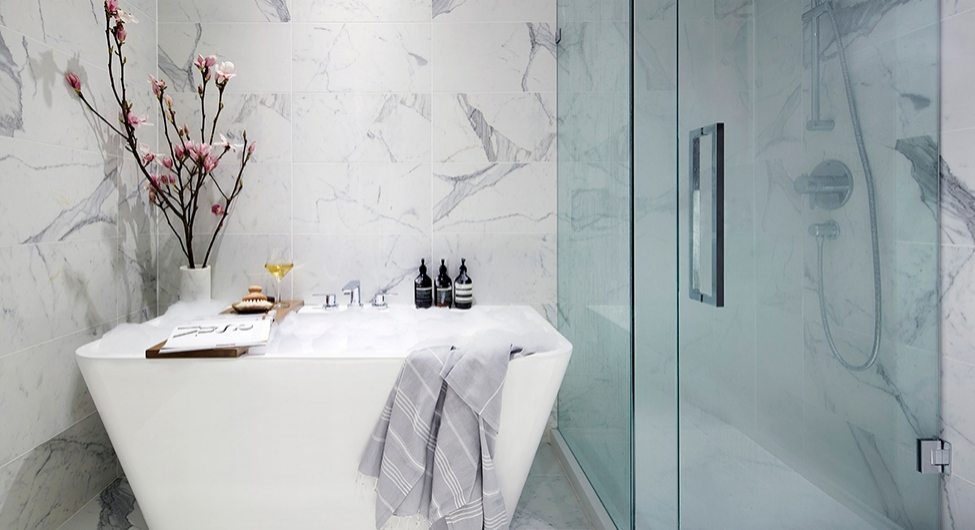 Darker coloured features and accessories are a key trend this season. You can see this in our beautiful Edward space, which features a ton of on-trend elegant features like the matte black faucet in the kitchen.
Edward was inspired by a dramatic and moody palette of emerald green, deep cabernet, muted burgundy and black. This dark, rich palette has been a firm favourite with interior designers across the World in recent months and it really compliments the modern shapes and textures that have become so popular in the real estate market.
Decorating for the Holidays Tip #1: Bring in Black Accents
This year, we're taking inspiration from our beautiful Edward development to show you how black is the perfect colour to add to your Holiday colour palette. Any space can be attractively complemented for the holidays using a couple of black elements: a matte black teapot, blackened wood charcuterie board or black salad bowl.
Here are some of the top reasons black is a great Holiday colour choice for your space.
It's a staple colour for the home. Just like the little black dress in every women's wardrobe, the color black is a staple in every home and one that will never go out of style. Depending on how you use it, the colour black has the power to add refined sophistication or a simple country feel.
Black is a classic, neutral shade and it goes with everything. Whether you've decorated in the purest whites, vibrant reds, oceanic blues or bright yellows, it can be used with any other colour you've chosen.
It's bold and different. Black is known to make the colours beside it pop, which makes for a beautiful addition to your Holiday décor. Those wonderful traditional Red and Green hues develop more vibrancy with a black accent, while conveying a lovely sense of drama in your space.
Black can even highlight a darker, moodier colour palette. If you're into darker, more muted tones, black accents still offers you the pop The best way to bring out some of your darker dramatic colour palette is to pair them with some sleek black accents.
It's so versatile. One of the best things about using black accents is that you can weave them into your home year round. There are abundant uses-and tastes for black accents in your home's interior: kitchen accessories, frames, wall colour, drapery, fabrics and more.
It can make a smaller space stand out. Ignore the misconception that black closes in a room and makes everything look smaller – in fact, dark rooms feel much bigger as the room lines disappear.
Using the colour black highlights texture well. Whether it's wood grains or textured pattern, black accents make smaller details come to life.

If you're interested in more information on our beautiful new Edward development, or just some extra inspiration on the muted, dark and moody palette choice, please visit our Edward Homes Page . Alternatively, we have multiple exciting developments in Vancouver Real Estate, that can help you find your look for the Holidays.
Don't forget to check out the rest of our Decorating for the Holidays Series:
To get more interior design inspiration, visit our Home Store at 5710 Cambie Street, open daily 12-6PM. Let us know what you think in our comment section.